How Can You Support Foster Families?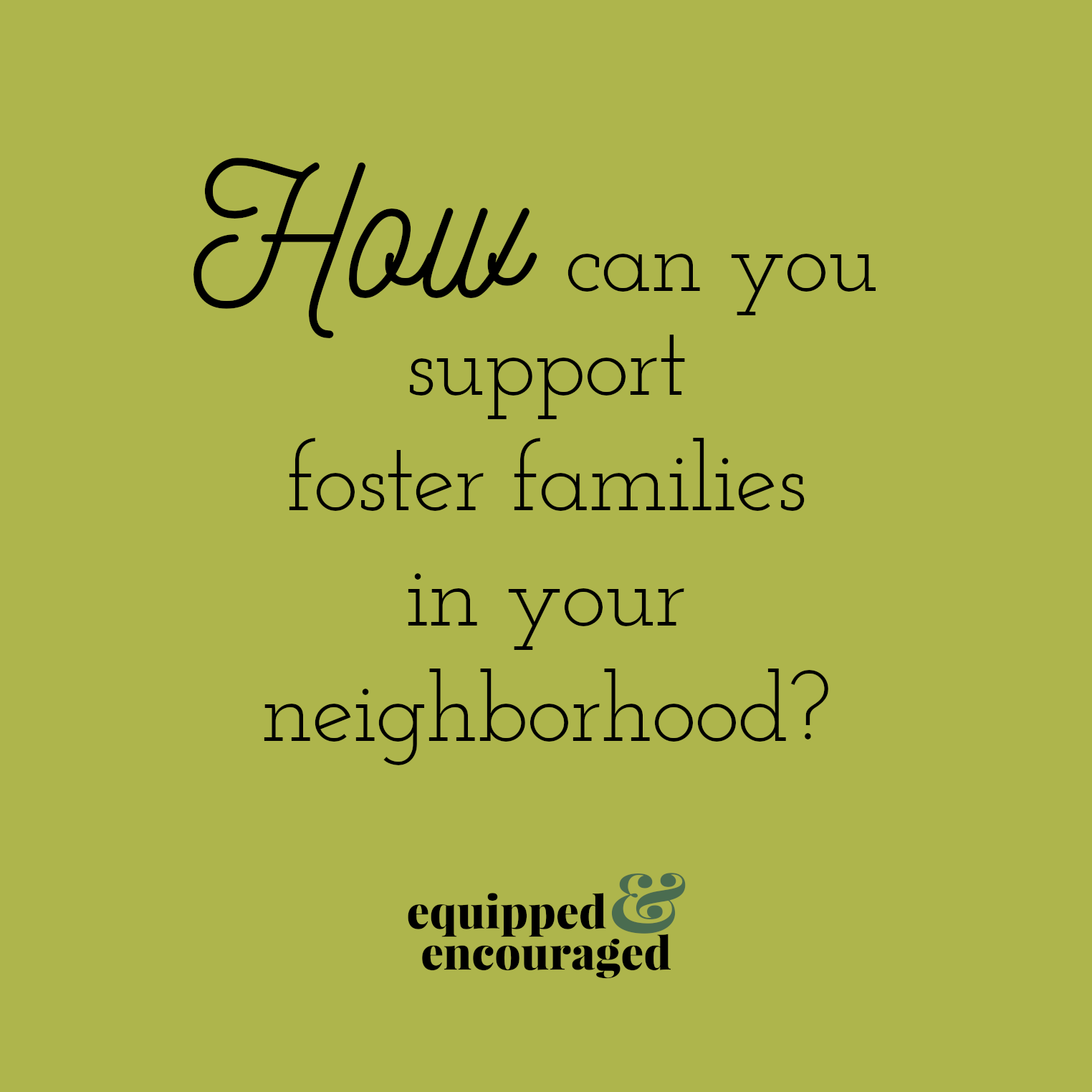 Right in your neighborhood, there are foster families.
There could be a foster family a few blocks away who had breakfast with two children this morning and is tucking six into bed tonight.
There might be a foster family two streets over who just got a call that the children they've been fostering have a newborn baby brother who needs them.
Maybe there's a foster family on your cul de sac with five children who need to be in five different places today … all at the same time.
Perhaps there's a foster family next door with parents who haven't had a date night in a year, who can't seem to ever get caught up on laundry, and who are considering feeding the kids cereal for dinner tonight because they're simply exhausted!
You can help!!
These are just a few ideas of ways that you can step into this space to help equip and encourage the foster families in your neighborhood:
Become trauma informed.
Trauma is a big topic. Children in foster care – all children in foster care – have experienced some level of trauma. If you're serving foster families or children in care, becoming trauma informed is crucial. When you're trauma-informed, you have the perspective you need to be understanding, compassionate, and empowering. You can play a huge part in helping vulnerable children connect and heal.
There are many ways to learn about trauma and its effects on children. The TBRI Podcast is a great place to start.
Be present.
One of the most significant ways you can support foster families is by simply being present.
Life as a foster family can be lonely and isolating. There are so many things that foster parents experience day in and day out that are unique to the lives that foster parents live, and for confidentiality reasons, there are often things that they're not allowed to share. It can feel like you're in this all alone.
A text message, a phone call, a coffee or lunch date, an invitation to dinner or a party, or stopping by to chat are all great ways to connect. Proactively check in, and you could be the lifeline that a foster parent needs. Help foster parents by letting know that they're seen and heard and valued.
Babysit
BABYSITTING! Oh, how foster parents need a break now and then!!
When you ask a group of foster parents what they really need, the most common answer you will get every single time is babysitters. It's hard to ask, though.
If you know a foster family, babysit for them! Offer a once-a-month date night, or offer to watch some of the kids while the foster parent takes another to appointments, or maybe offer to come play with the kids once a week so mom or dad can catch up on housework. Know a foster parent who has a newborn? Offer to come hold baby while foster mom or dad takes a nap!
A few hours of your time playing with and loving on the children in a foster home may not seem like a huge deal to you, but it absolutely can make a huge impact!
Bring food
Toddlers and teenagers alike eat food … a lot of food. It sometimes feels like that's all they do! How can you help feed foster families?
Bring a hot meal every other week on the same day (or once a week or once a month – whatever works for you).
Deliver several freezer meals that the family can keep on hand for busy nights when they don't have time to prepare food themselves.
Set up a meal train for the foster family that has a new placement (Friends do this all the time for families with new babies. It just makes sense to do it for foster parents, too!)
Ship snacks! (This is perfect if you have a relationship with a foster family who isn't in your local neighborhood, or if you're just a busy person and still want to help.) Choose a case or two of a favorite snack food from an online retailer and have it shipped to the family. If you want to help on a regular basis, most online retailers will allow you to set up a monthly autoship.
Donate restaurant and grocery gift cards. (This option is even easier than the last one.) Just purchase some gift certificates and drop them off to the family or drop them in the mail.
Share your abundance! Do you raise chickens, have a backyard garden, own a fruit tree that overproduces? Your friend that fosters would be so blessed with a dozen eggs, a bunch of carrots, or a bag of mangos!
Invite a foster family for dinner. Dinner in or dinner out, your foster family friend would probably love to be invited to eat and enjoy conversation with you!
We all know the importance of food to the health of our bodies, but food is also incredibly important to the health of our minds and the health of our relationships. Feed a foster family, and you're helping with all those things, and giving foster mom or foster dad a few extra minutes to rest or get chores done, and that's such an amazing gift, too!
Help with chores
Run errands
Pray
Invite your church, ministry, or small group