How Can Your Church Support Foster Families?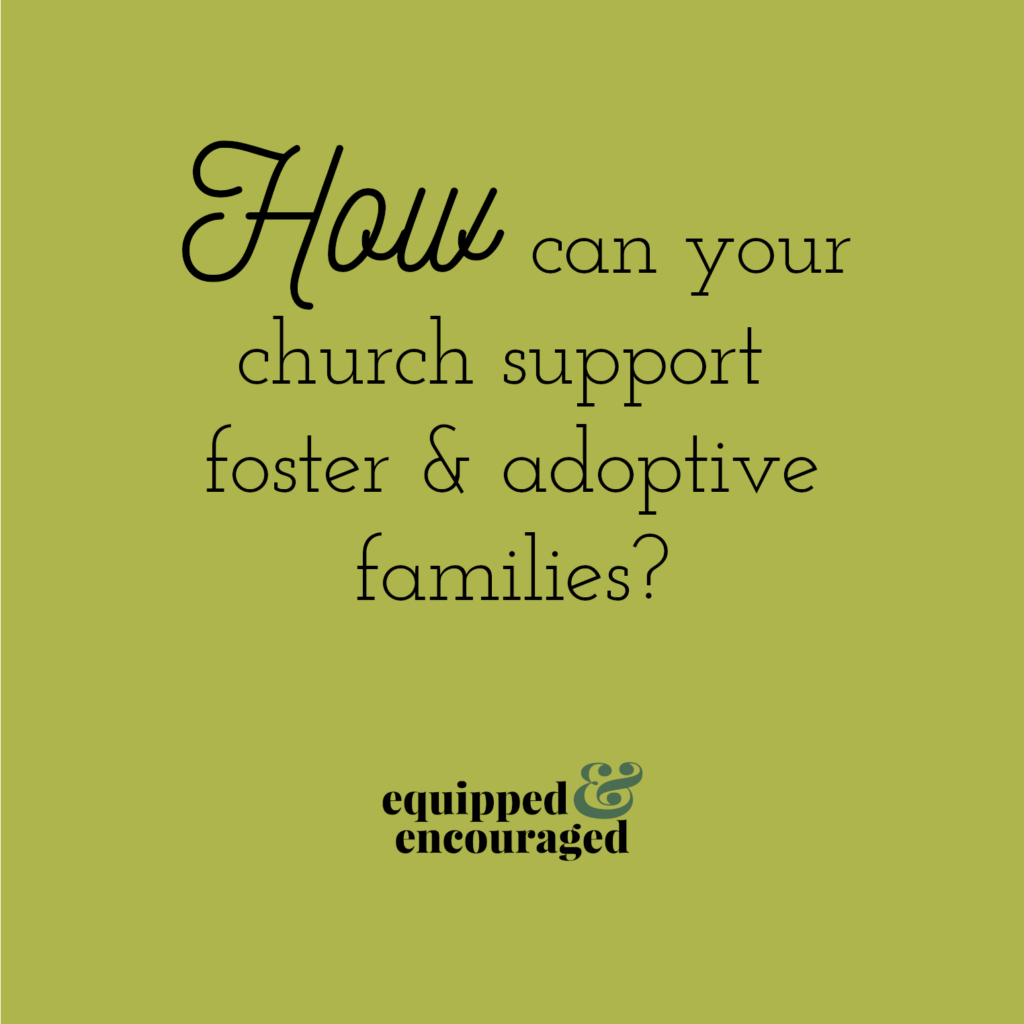 HOW CAN YOU SIMPLY & EFFECTIVELY ENGAGE YOUR CHURCH OR MINISTRY IN SERVING BREVARD FOSTER FAMILIES TODAY? READ ON FOR SOME GREAT IDEAS!
Reach out to us at info@equippedandencouraged.org if you have any questions or if you're ready to get started. We'll walk hand-in-hand with you every step of the way!
GIVE FOSTER PARENTS A BREAK
Schedule a Foster Parent Night Out. Include trauma awareness training for your children's ministry staff and volunteers. Go to
www.belonguniversity.com
to complete the free 1-hour training.
MEET TANGIBLE NEEDS
Organize a collection for local foster families. There is an infinite number of ideas. Here are a few:

Wrap It Up
Collect gift wrap, tape, bows, tags, gift bags, tissue paper

Socks and Locks
Collect socks and hair care items (brushes, combs, ponytail holders, bows, etc.)

Dinner's on Us
Collect $25 gift cards to various restaurants

Bed, Bath & Books
Collect a set of PJs, a bottle of bath soap, and a book for each child (This one would require more detailed planning including signups for PJ sizes.)

Thrilled to Build
Collect small sets of building toys (LEGO, KNex, tangrams, blocks, any small building set)
WRAP AROUND FOSTER FAMILIES
Ask your small groups to become WRAP Teams! Teams of 10-15 people wrap around a single foster family to support them by providing meals, childcare, prayer, and other support.
HOST EVENTS & TRAININGS
Uplift Brevard
Uplift Brevard Support Groups are held every other month in various parts of the county, providing training and peer support.

TBRI and Trauma-Informed Care
Annually, the Hope for the Journey virtual conference gives foster and adoptive parents training in Trust Based Relational Intervention (TBRI) to guide them in caring for children who have experienced trauma. Churches host and provide childcare. GTA also has two TBRI Practitioners on staff who can provide training to caregivers, church staff and volunteers, and community responders.

Family Fun Events
These events are opportunities for foster families to gather with other foster families, have fun, and build connections. They can be simple like a playground meet-up with dinner from a food truck or huge like a carnival event with bounce houses and catered food.
START A FOSTER CARE CLOSET
Does your church have unused space and a handful of willing volunteers? Brevard is in need of a Foster Care Closet. You would accept donations from the community, sort them and display them, and then allow foster parents to shop for free for the children in their care.
DIY A FOSTER CARE MINISTRY
But not really DIY because we'll work with you! Is there a group in your church that might like to kick off a local foster care service program? Maybe your church has a group of mechanics who want to do free quarterly oil changes for foster families, or a group of woodworkers who want to start a bed-building ministry, or a group of quilters who want to make quilts for kids in care, or a group of cooks who want to start a frozen dinner ministry? … there are as many ideas as there are people. If you have an idea, let us know, and we'll work on building it together!
TEACH YOUR CONGREGATION ABOUT THE NEED
Ask for our sermon guide! Share God's heart for foster care and adoption with your church.